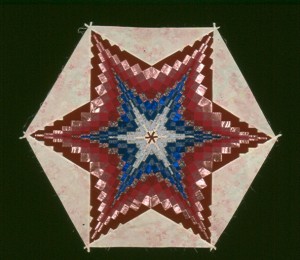 Learn to design your own Bargello Tapestry motion and then take that beautiful flowing drama into TWO spectacular radiating star images! Marilyn presents the necessary information to create either a 60° or a 45° star pattern. The choice is yours.
First session will be to plan the strata and then sew the actual Bargello design together. Second session will be to "check and correct" the Bargello pattern and then cut all of the Star diamonds for both Star images. Everyone will create 2 unique "one of a kind" Bargello Star quilts. More photos below.
Note: No prior Bargello quilt making knowledge or familiarity required.
Class Length Options:
2 days
Weeklong retreat.