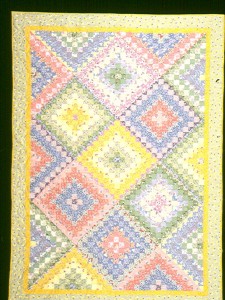 In this class, students will simultaneously create two very traditional, yet stunningly different quilts from one unique and clever sewing effort! Simple strip sewing techniques are used and any size quilts-from miniature to king-sized can be created.
Students will combine between 8 and 36 different fabrics to create depth, illusion and intrigue. This class offers an outstanding exploration of a) close-contrast fabric relationships and b) reverse color-play dynamics. Marilyn originated this ingenious approach to create two traditional quilt patterns from the same fabric/strata composition. Each quilt is the equal but opposite color flow of the other and they harmonize beautifully together.
The class project will create two quilt images; one is a square traditionally called Grandmother's Dream and a rectangular traditionally called Boston Commons. They will each have the same fabrics in them – but in the reverse display, what Marilyn calls – equal/opposites. Extensive class samples will be shown to inspire and delight everyone! Bring your cameras!
Class Length: 8 hours