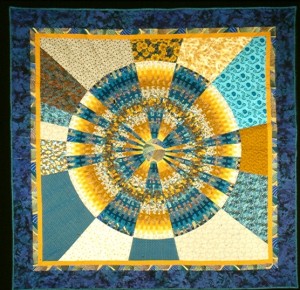 This class is dynamic and inspiring and refreshing! We will be very productive and quickly create numerous visual delights!
Each student will quickly understand the fabric requirements and then make 2-3 of her own Wheels of Wonder, in assorted sizes for a mesmerizing collage.
As a group we will see the amazing power of these wheels as they unite and make a mosaic featuring all the wheels. Easy to sew and make – very inspiring, and NO Seams to Match!