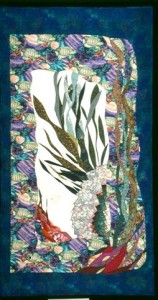 No templates – just the freedom of cutting and sewing amazing curves…..Technical skills and abundant freedom create endless flowing motion – which is the theme of this exciting class!
Everyone goes home with a small quilt top! Each quilt is uniquely "one-of-a-kind" and is not duplicated, ever – even by the quilt artist who made it…… A variety of curves are easily sewn by direct fabric merging techniques called "undulations", "wiggles" and "bites".
Each quilt is unique, contemporary and extensively elaborate. Freeform curved seam work quilts from this class will receive superlative comments and award ribbons at the next quilt show.
Class Length: 8 hours